do good

while helping those dealing with food insecurity

eat well
"There is a passion to ensure that small businesses feel supported & people in need have a meal." – Marcus Lemonis
In December of 2020, No Limits Cafe was gifted $30,000 by Marcus Lemonis and the Lemon-Aid Foundation. This gift from the foundation's program, The Plating Change, enabled us to keep our employees with intellectual disabilities employed and enabled us to feed residents in our community who were dealing with food insecurity.
With this amazing gift, No Limits Cafe for 10 weeks was able to:
Produce 300 meals each week for people that may have otherwise gone hungry
Provide continuous meaningful employment for 34 adults with intellectual disabilities
Introduce our employees to the mission of helping others
Feed 81 Senior Citizens, 20 members of a local Homeless Shelter, and 50 members of our community who reside in a hotel – twice each week

We are going to carry on the mission of The Plating Change in our community, BUT WE NEED YOUR HELP!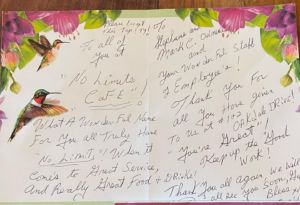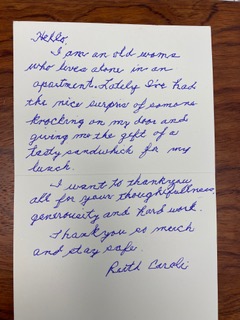 Help for Hunger - A No Limits Cafe Program
This program is a win-win for No Limits Cafe employees as well as for members of the community that wonder where their next meal is coming from. Having this added work opportunity allows our employees to learn new skill sets, while being an active part of the community.
This is a beautiful and meaningful way to support No Limits Cafe because you are helping both adults with intellectual disabilities AND our neighbors that are dealing with food insecurity.
SO, HOW DOES THIS WORK? You make a donation and No Limits Cafe uses that donation to make and deliver meals to those in need,
YOUR SPONSORSHIP
All sponsors will be recognized in our semi-annual Newsletter.
At the $1,000 level and above, sponsors will also be featured on the No Limits Cafe website, Facebook page and Instagram feed.
Sponsor 1 Meal            $12
Sponsor 10 Meals       $120 
Sponsor 1 Day              $500
Sponsor 1 Week          $3,000  
Sponsor 2 Weeks.       $6,000
Sponsor 1 Month         $12,000